Memorial Services for County Attorney Robert Hilder
A Memorial Service will be held in Robert Hilder's honor on May 15th at the Jim Santy Auditorium, 1255 Park Avenue, from Noon to 2:00pm in Park City.
Robert's family has requested that in lieu of flowers, donations be made to a memorial scholarship fund set up in Robert's honor at the University of Utah law school to fund immigrant legal education.  The Attorney's Office in Coalville will be collecting donations for those wanting to contribute to Robert's memorial scholarship fund.
---
Nominees for Summit County Attorney
Due to the tragic passing of Judge Robert Hilder, the Summit County Democratic Party is seeking candidates for the position of Summit County Attorney, to serve the current term of office through 2018.
The County Attorney is responsible for managing four divisions in the Summit County Attorney's Office.
The Civil Division provides legal counsel and advice to the County Commission, other elected county officials, and the various county departments, boards, special districts, and agencies. The Civil Division also defends all actions and claims brought against Summit County and prosecutes all actions for the recovery of debts, fines, penalties, and forfeitures accruing to Summit County.
The Criminal Division acts as prosecutors for felony and misdemeanor criminal offenses in District Court and Justice Court and for delinquency matters in Juvenile Court.
The Children's Justice Center provides a child-friendly atmosphere designed to help children feel safe and comfortable while they are being interviewed regarding alleged abuse.
The Victim Assistance Program provides education, referrals and court support for victims and witnesses as their offender moves through the criminal justice process.
Qualifications:  Candidates must be (a) citizens of the United States, (b) attorneys in good standing that are licensed to practice law in the State of Utah, (c) registered voters in Summit County, and (d) willing to become a resident of Summit County within 30 days of the appointment to the office.  UCA 20A-9-201(3)(A)(iii).
All interested candidates should submit their contact details and a current resume to the Summit County Democratic Party at summit_chair@utdem.org prior to May 20, 2017.  Any questions can be addressed to Contact Us.
---
Meet the 2017 UDP Candidates!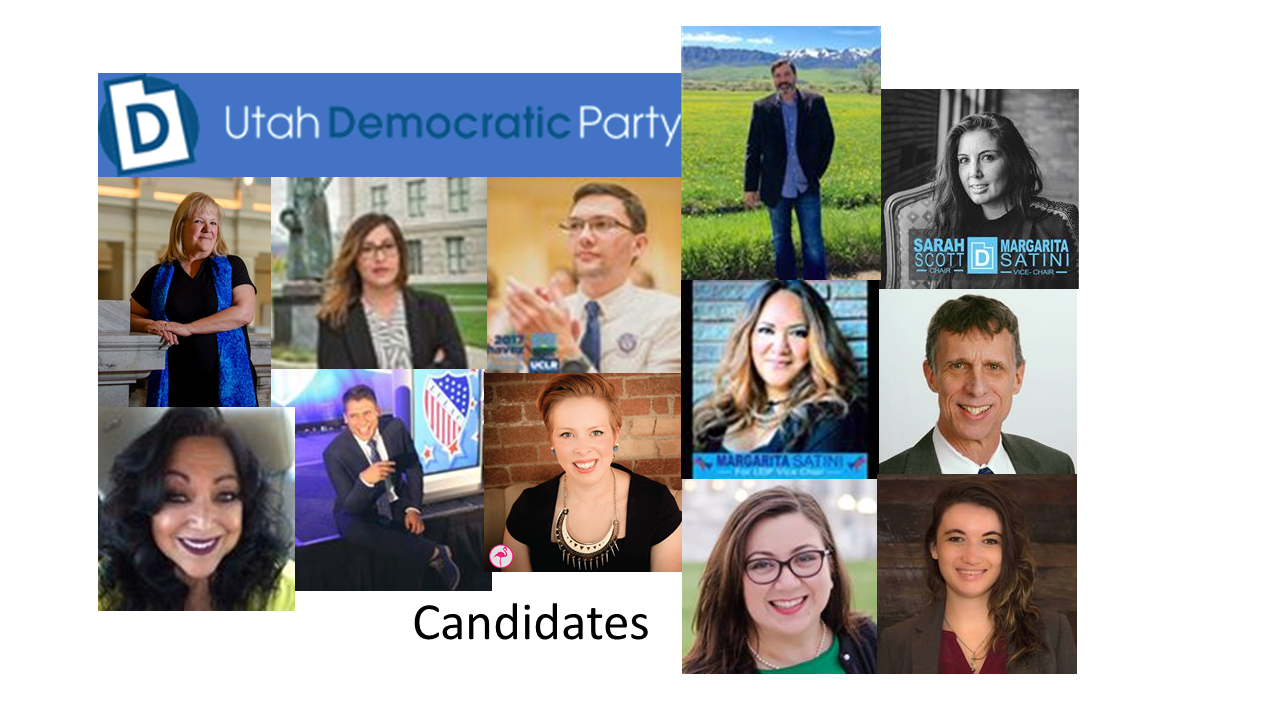 On May 16 – Summit County State Delegates!!  Join us at our Meet & Greet for the Utah Democratic Party (UDP) Officer Candidates. Chair, Vice Chair, Secretary, Treasurer – They will all be here to talk to us about how they plan to lead the UDP as we go forward! Meet at the Park City Marriott on Sidewinder Drive from 6-8:00pm. Take this opportunity to talk one on one with each of the candidates!  For event details click here.
Voting is coming up at the UDP State Convention on June 17.
---
 Central Committee Meeting

 
All Summit County Democratic Party Central Committee Members should plan to attend our upcoming meeting on May 25, 2017.   The meeting will start at 6:00pm at the Park City High School cafeteria, on Kearns Blvd in Park City.   The committee will be reviewing candidates for the Summit County Attorney position and selecting three (3) nominees to send to the Summit County Council.   Send any questions or comments to summit_chair@utdem.org or click here.
---
Calling All Activists!
Make your voice heard in 2017.  Check out the newest page on our Summit County Democratic Party website  TAKE ACTION!  We'll let you know where to find the marches, protests, and other activities that will keep you at the forefront of the excitement!
---
May 2017 Summit County Calendar
Thurs, May 4 | Eastern Summit County Planning Commission – Kamas City Office  Agenda
Fri, May 5 |Kimball Junction Neighborhood Master Plan Committee – Sheldon Richins Building, Kimball Junction  Agenda  
Wed, May 10 | Summit County Council Meeting – Summit Courthouse, Coalville  
Thurs, May 11 8:30-9:30am| Conversation with the Council – Gateway Grille, Kamas
Monday, May 15 12:00noon| Robert Hilder Memorial Service – Santy Auditorium, Park City Library, Park City
Tuesday, May 16 6:00-8:00pm| Meet the UDP Candidates – Prospector Marriott, Park City
Thursday, May 25 6:00pm| Summit County Democrats Central Committee Meeting – Park City High School, Park City